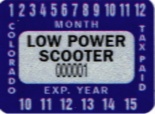 Low-Power Scooter is a self-propelled vehicle designed primarily for use on the roadways with not more than three wheels in contact with the ground, no manual clutch, and either of the following:
A cylinder capacity not exceeding fifty cubic centimeters (50cc), if powered by internal combustion, or
A wattage not exceeding four thousand four hundred seventy-six (4,476), if powered by electricity.
A Low-Power Scooter does not include a toy vehicle, bicycle, electrical assisted bicycle, wheelchair, or any device designed to assist mobility impaired people who use pedestrian right-of-ways.
Number of Decals Allowed: One per Low-Power Scooter.
Fees:$5.85 per Low-Power Scooter 3-year decal/registration.
Requirements:
Owner/Operator must possess a valid driver license or minor driver license (42-2-103(2)(a) C.R.S.).
Low-Power Scooters may only be registered or renewed when the applicant has a complying motor vehicle insurance policy or a certificate of self-insurance in full force and effect as required by sections 10-4-619 and 10-4-624, C.R.S.
Secure and verifiable identification is required to register
Application for registration must be submitted to one of the following:
State Registration Authorized Low-Power Scooter Agent from whom the Low-Powered Scooter was purchased. Agent will be responsible for providing required documentation to the State Registration Section.
State Registration Section by owner completing the Low-Power Scooter Registration Application and submitting to the address listed on the form.
Information: Research Colorado Revised Statute 42-1-102(48.5), 42-2-103, 42-3-105(1)(d)(I), 42-3-105(2), 42-3-104(4)(a), 42-3-311, 42-4-109 and 1 CCR 204-10-40 Low-Power Scooter Rule.