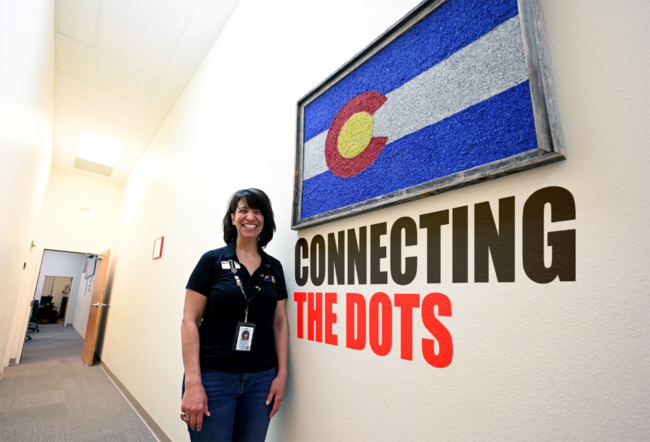 Rome wasn't built in a day, and neither was "DMV Connects Colorado" by Pueblo Driver License Office Assistant Manager Paula C.
In fact, Paula labored for about four-and-a-half years on the project, collecting materials, planning and executing the artwork until it was ready. But, you won't see her work in the Denver Art Museum.
Paula's work is displayed in the Pueblo Driver License Office, which is fitting since there's a lot of Division of Motor Vehicles history in the artwork. "DMV Connects Colorado" is composed of thousands of void dots -- small remnants of credentials that were voided by a hole punch and are barely bigger than a grain of sand. These small pieces were then painted and arranged to form the State flag of Colorado.
"When I first started working here, they put me at the camera station first, and we had a little void punch machine for all the driver licenses that we'd punch every day," Paula said. "We'd empty the tray and throw them in the trash, and one day, I was sitting there looking at them thinking, 'these things are so neat because they're just little pieces of everybody's license and we throw them away.' I kept thinking 'surely, there's some way to incorporate them into something to make them stand out or remind us of what we do every day," she said.
Paula said it took her a while to conceptualize what to do with those leftovers, and as she started to connect the (void) dots, Collins enlisted the help of her colleagues in Pueblo and other area driver license offices, including Alamosa, Canon City, and Trinidad as well as the region's traveling technicians.
"I started asking everybody to save them for me and everybody was like, 'What are you saving them for?' and I said 'It'll be a surprise,' " Paula recalled. "And so everybody started saving them and then my brain just went to work and I decided I wanted to make a flag."
Licensing Technician Tristan L., one of Collins' colleagues, said he was surprised when she asked to save the void dots and wondered what she was going to do with the small license pieces.
"I didn't, we didn't, know what she was doing," Tristan said. "She was just taking the little dots from the old licenses that we punched void through, and she didn't tell us what she was doing until she completed it. I just thought she was a little crazy about it -- she worked on the project for such a long time."
After she gathered enough void dots, Paula got to work with some help from her husband, who cut the base of the artwork. Paula thought through how she wanted to recreate the flag, bouncing ideas off her husband and going with what stuck.
"I actually used stuff I had at home, so I think I used a yardstick for the lines and then I measured it out," she said. "Then I used some bowls to draw the outline for the 'C' and the inside."
Paula said when she had it how she wanted, she actually hand-painted the flags colors to use as guide for the most difficult portion of the project -- painting the void dots.
"So I wanted to color them (void dots), and my husband I didn't agree with how I wanted to paint them. He just wanted to spray paint them, and I said 'No, I can't spray paint, they'll fly everywhere,' " Paula laughed. "I put the void dots in some old containers I had around the house, and I actually poured the paint in and I mixed it and the dots until I got the color I wanted."
After letting the now-painted void dots dry, Paula used scissors and other tools to break the dots back into individual pieces, which she said took a considerable effort because of how the paint had hardened.
Paula painstakingly adhered the void dots to the artworks base with a brush and liquid adhesive, often working incrementally as the adhesive dried before doing another layer.
When all the work was completed, Paula brought the artwork into the Pueblo DLO and showed it to her colleagues.
"When I finally brought it in, everybody was shocked," she said.
Tristan said the flag came out really well. "I didn't think that she was going to do the whole Colorado flag like that, I thought it was gonna be something small," he said. "I really like how she did the shading."
"I think it's great. I mean it's Colorado and it's awesome and she did an awesome job," Pueblo Driver License Office Manager Margaret D. said. "When I saw it, I was like, 'Oh my God, that had to have taken a long time.' I've never heard of anybody doing anything like that with void dots."
For Paula, her favorite part was seeing how her colleagues reacted to her artwork.
"My favorite thing was everybody's reaction when it was finally done," she said. "When you have people ask you about something for that many years, it was really great to finally show them."
Although that art project is complete, Paula is already hard at work on a new project.
"My project is actually a two part project, so I have another part at home that I'm working on and I don't know how long it'll take me to bring that part out, but it goes with this part. It's also incorporating the same, the same punches from the driver license."
When pressed for more details, Paula said to "wait and see."