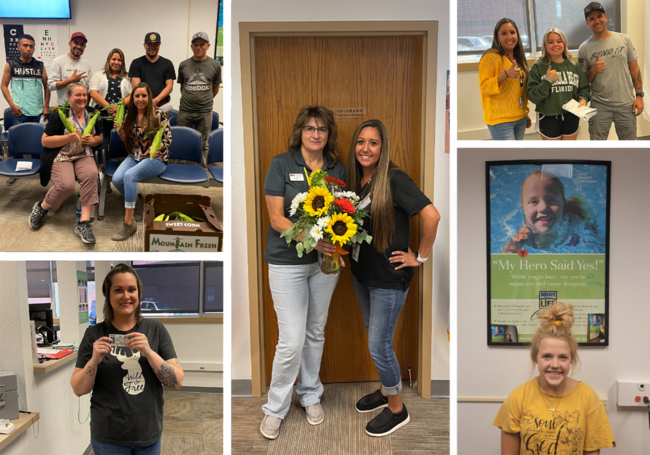 Away from the hustle and bustle of the Front Range, there's a different world -- time seems to slow and the people not only make time for pleasantries, they revel in it.
 And in this environment, Driver License Offices weave a prominent thread in the tapestry of their communities. Such is the case for the Delta Driver License Office where Office Manager Colleena H. leads her small but smiling office as they serve Coloradans and build memories. 
In fact, the Delta Driver License Office's performance in the Driver License DMVee Awards for Customer Service illustrates the community's affinity for the small office. The Delta DLO either placed or received an honorable mention in the customer service contest in all but one month month from January 2021 to July 2021. DMVees are awarded based on customer service satisfaction and number of surveys for a driver license Office.
For the past few weeks, Coloradans have been extra appreciative of the service they received and have gifted the small DLO everything from food to plants.
Hilling attributes the office's success to being pleasantly down-to-earth.
"We smile a lot, and our team is very personable," she said. "We convince our customers that we like our job and truly feel that we are helping our community."
For Colleena and her Team, being part of the community makes all the difference. 
"We work and live in our community," she said. "We have contact with our customers at the grocery store, the convenience stores and gas stations. We are members of local clubs along with our customers and we are generally recognized in the community."
Word spreads to other small communities in the area, she said, so the office also has many customers who drive from throughout the Western Slope. "For example, we routinely get customers from Fruita, Palisade, Nucla, Naturita, Telluride, Whitewater, Mesa, Rifle, Colbran, and so on and so on -- I could name many more," Colleena said. "They [customers] seem to love the small town atmosphere and positive, cheerful attitude in our office."